Testimonials
I am in love with the clothes I have received from Bloom Bella . They came so thoughtfully packaged with a handwritten note (it's small touches like this that make such a difference) and as I took each item out I was so thrilled with the amazing feel of the fabric! You can tell it is high quality. The fabric is so so comfy! Yet, the outfits are so classy. It's the perfect combination! I love dressing up in vintage styles, so I love that these clothes can fit into the 50's time period so well.

Thank you Bloom Bella!

Katie D, Los Angeles
Lovely Dresses

These dresses are beautifully handcrafted and so comfortable and beautiful and it's a very vintage inspired classic look. I love it so very much I'll keep getting their dresses from now on

Niki, Fontana
Absolutely awesome always !  Everytime, I enjoy more and more purchasing from BloomBella. Such classy, unique, beautiful styles to have you looking elegant and radiant all day, everyday!! Recommend 150% I must say, with BloomBella dresses, nothing can go wrong!!

Miriamne, Florida
Pao, the owner of Bloom Bella puts so much love and care into her brand, Every package sent, every style created, it's so obvious she does these things with nothing but love and care for others, wanting to make her audience feel as beautiful as possible trough the outfits she designs.

Diana Piatt, NY
Shop our exclusive Bloom Bella Collection

Exclusive designs. Highend and luxurious, meet Bloom Bella at its finest point.
Shop our exclusive Bloom Bella Collection
Exclusive designs. Highend and luxurious, meet Bloom Bella at its finest point.
Shop now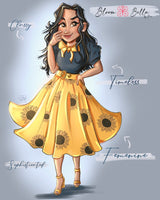 MORE THAN A BOUTIQUE A MISSION
Bloom Bella by Pao
"Empowering women one dress at a time"
Our main goal is to offer timeless, feminine and sophisticated clothing that will never go out of style. At Bloom Bella you'll find a beautiful unique collection of dresses for your special event. Each of our dresses are made from the highest quality fabrics. 
Bloom Bella has its roots and inspiration on the 50's and royal fashion.
We are fully committed to quality & customer care.
READ MORE
Testimonials
I absolutely LOVE my Bloom Bella outfits, both in my professional and personal life. I'm a model, and have to be "on point" each time I'm in front of the camera. When I wear something from Bloom Bella, I know it will look great on camera. The quality and fabrics never, ever disappoint. They are always beautiful.In my personal life, I adore being a wife and mom, but I still want to look nice. Whether it's spending time with the family, going to church, or on a date night with my husband, my clothing from Bloom Bella is always just the right thing to wear.

-
Y'all, if you have not checked out my favorite boutique Bloom Bella, check it out as soon as possible. This is my all-time favorite boutique.

If you want to support a wonderful and worthy small business, support this one.

Every item I own from here makes me feel like a princess.

Kristy Noel
AMAZING customer service. I needed a dress for my Grandmother's homegoing service and Bloom Bella delivered! Did whatever it took to overnight it to me and also threw in a pair of earrings. Everything was amazing!

Taylor Durisseau
I got the most beautiful dress. The shipping was fast. It was wrapped nicely. I was even sent some beautiful pearls. I highly recommend!!! I will shop here again.

Krystal Hall-Shivers
Finally! a website that I truly love . I love that all your clothing can be worn for any occasion and fits like a glove .Thank you! Pao🌸 for all your dedication and awesome customer service to all of your ladies.. God bless you 🥰

Esther
I love shopping here. I feel stunning at work and get lots of compliments for my dresses. Looking forward to this month VIP box. My kid and I love opening the surprise box. Thank you for the great quality and customer experience.

Raquel Himes
I NEVER shop online, its risky lol but I took the chance with this boutique and as NOT disappointed. TOTALLY SATISFIED! I got a lot of compliments of how modest the dress fit my body. The material is thick but not heavy, easy to take care of and very flowy, the drop is beautiful. I also bought the same dress but in different color! The service from Pao is great, it feels like you are talking to a freind not a company.
Bloom Bella is my forever fave shop because of what she gives to her clients. I love Pao all that she does and what her brand represents.

Diana
First of all Paola never disappoints when it comes to customer service, she is a true person doing a happy dance every tie an order is placed!

Quality on all her pieces is superior!

Katy
WOMEN OF INFLUENCE BY BLOOM BELLA